Our prayer for you is that you are able to find the perfect Church home where you are able to grow in your knowledge and faith in God. If you find that here at River Oaks Christian Church, we would love for you to join our family. The ROC offers a variety of classes for all ages. Our goal as a Church is to Spiritually equip you for your battle in the real world. We want you to not only know what you believe, but why you believe it so you are able to stand firm on God's Word.
Located at 300 N. Elm Jenks, OK 74037 down the street from Jenks High School
River Oaks Christian Church holds service every Sunday at 10:30 AM. Prior to Sunday service, we have Small Groups that starts at 9:30 AM, and a brief coffee and snack time at 10:10 AM until service. If you do have children, they are more than welcomed to attend service or go into the nursery or if they are old enough they can attend JR worship.
Youth | Women's Ministry | Children Ministry | Ministry Teams | Missions
At River Oaks Christian Church, we are excited to be able to offer Bible School classes for all ages from Pre-School to Senior Adults. Bible School is a vital part of our Spiritual equipping. We strive to use materials that are geared for each specific age group. Our teachers are dedicated and faithful to share the truth of God's Word with all who attend. Bible School is a great place to meet other Christians for growth and fellowship. Christian University was developed to assist in the systematic growth of each individual adult Christian in their walk with God. Brochures are available on request. These classes meet during the Bible School hour.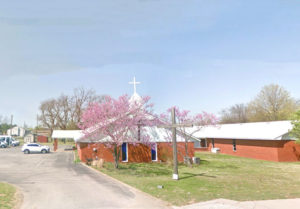 Jenks Church – As you read the paper or listen to the news, our world is in turmoil. From Iraq to Congress, from rising gas
Read More
REACH…UPWARD IN WORSHIP INWARD IN COMMITMENT OUTWARD IN EVANGELISM